Hello, if this is your first time at The Restoration, welcome! Since I was driving a camouflage truck, I decided to start taking pictures of other camouflage trucks in the East Tennessee area; and posting them here. You can see what works, what patterns you like, and be influenced as to how you want your own camo paint to look. If you want me to put a picture of your camouflage car or truck on this page, send the picture  to MY EMAIL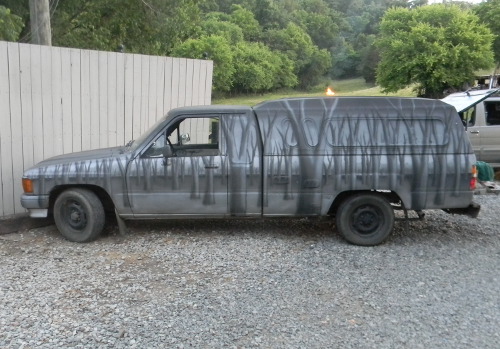 The Toyota truck above was my last camo sheme, Other trucks I've owned are here at A PAGE .
The first truck is one I followed into the Food City parking lot in Seymour Tn. I was able to talk to the owner, she said that she got the truck from a neighbor, who had painted it. He used 9 layers of paint or pattern to achieve this look.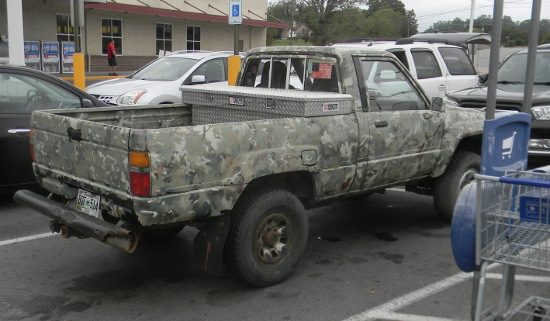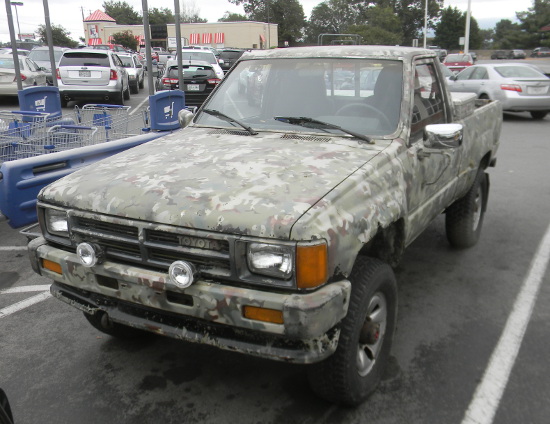 I was driving through a town north of Knoxville recently, andf wanted to get a bite to eat. I pulled into a fast food restaurant, and this little car was parked there. It has a snappy fresh paint job. As I was ordering my food, I asked the lovely young woman behind the counter whose truck it was, and she said it was hers.  the paint on it was getting dull, so she told her father that she wanted to repaint it. he told her that he used to have a truck with a camouflage scheme on it, and dared her to paint her car that way. She took his dare, and together, they painted the car in one evening. That's a neat story.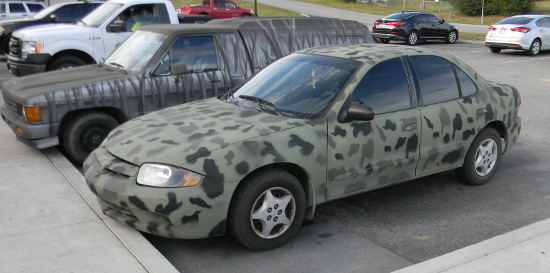 On 4-14-2022 I was in the Seymour Kroger parking lot, and saw this van. At a distance, it looked like an expensive  Real Tree type camo film. Upon getting closer, I could see that it was painted on with spray cans. It's quite unique.. The blue marks don't show at a distance; it reminds me of art technique I read about that impressionist artists used. In real life, light shimmers a little before coming to our eyes. In order to replicate the effect, some artists would put dots of opposite color into parts of their paintings. For instance, a gree tree would have small dots of red in the foilage . That's what the blue does in this scheme; it imparts a shimmer, and depth.
The owner, "J.D." said that he bought it this way, the previous owner, a military veteran was the one who painted it. he said that each color represents a war that the U.S. was in.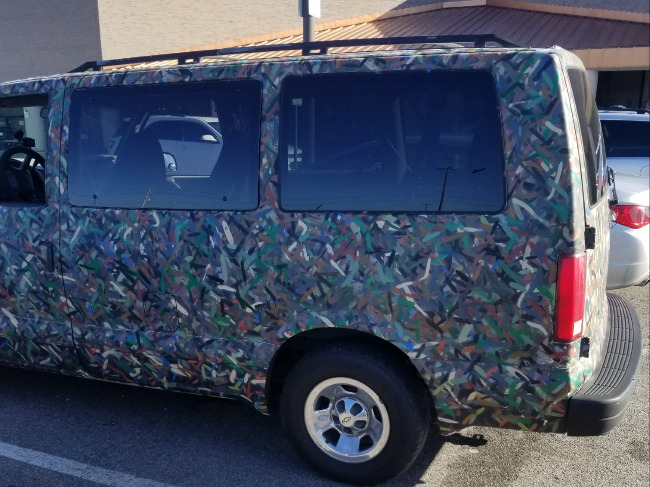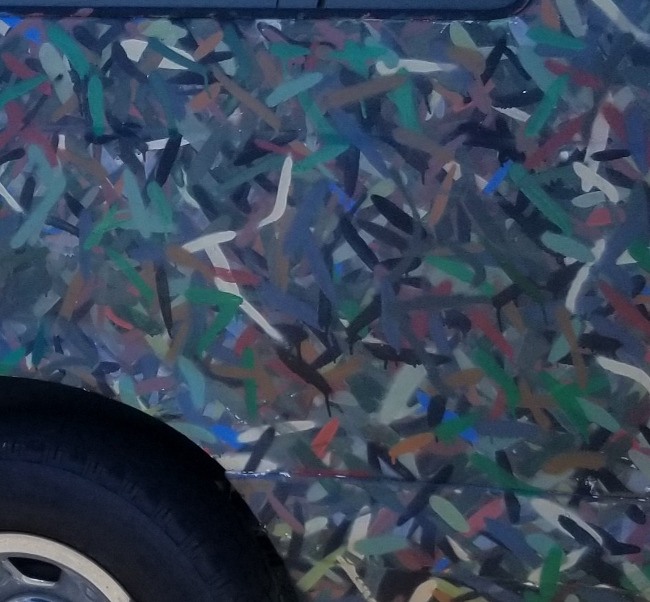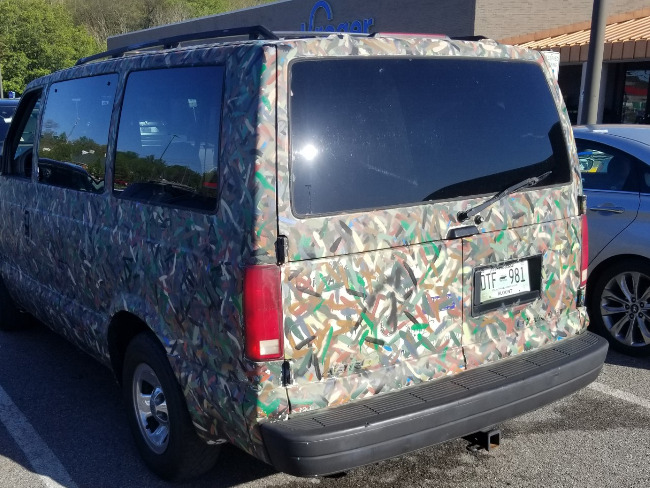 Ok, on 10-18-2019 I was in the Lowe's parking lot, and saw an older Toyota pickup, with part of the outer bed deliberately cut away. i figured that it was either part of the bodywork improvement, or was a special modification. I asked that man about it, and he said it was just bodywork. Then he explained that the truck was a project used to haul a bunch of mountain bikes up a mountain. He showed me a picture, and I knew I had to put it on this page, even though it's not camo. Yet. maybe he'll join the camo club. Check out these cool racks fore and aft: