Every once in awhile you get a really memorable job. I have a couple of those right now, this one I just finished. It's a 1967 Plymouth Belvedere with a 426 cubic inch hemi engine. In my younger days, I was involved with hot rods, so were my friends. We knew what a 426 hemi was, but none of us could afford one. So it was a pleasure to get a call from Chuck at Chuck's Classic Cars about restoring this car. This is the actual car, and Chuck knows Don Grotheer the driver. In fact, he let me talk to him on the phone. Some days my work is quite trying, other days, it's incredible. To get an idea of the caliber of the work in Chuck's shop, click on the link. If there's an applicable Bible verse, it's probably Proverbs 22:29, "Seest thou a man diligent in his business? He shall stand before kings, he shall not stand before mean men."
The lettering was hand painted back then, and he wanted it done that way again. Below are pictures related to this job; the first being an old photograph from the car's racing days. The other pictures are cars around Chuck's shop, some are rare. Some of these cars were ordered from the factory with the famed 426 engine.
A job like this is more time consuming than other jobs because I take photographs which were shot at an angle, and do my best to relieve the foreshortening effects. It not only makes graphics narrower horizontally, but changes italicized angles. All this is done with the help of a computer, because it's great for using actual measurements to undo distortions. The time I put into drawing the graphics on the computer is the same or more than I would use if I did them completely by hand; so I think that it's safe to say the outcome is the same. Also, I use the same tools and methods for painting on the car that were used in that era, for authenticity. There are probably more brush marks now than then, because back then the paint contained lead, and could be thinned down. The thinner paint laid out more smoothly than what I use now; which is the same brand name, but a lot less thinner, plus a hardener added to preserve it from the sun. I really don't mind though, as this will make the hand painted effort and expense show more to observers at shows. Anyway, here are the pictures: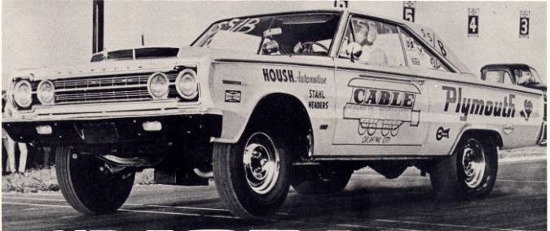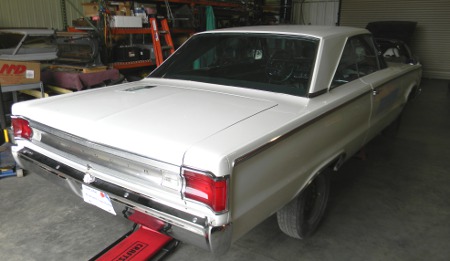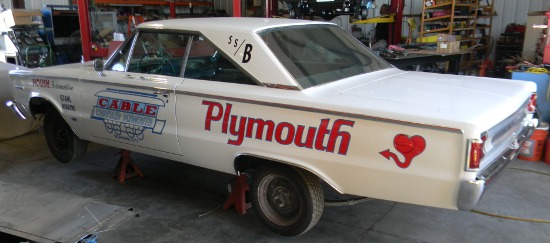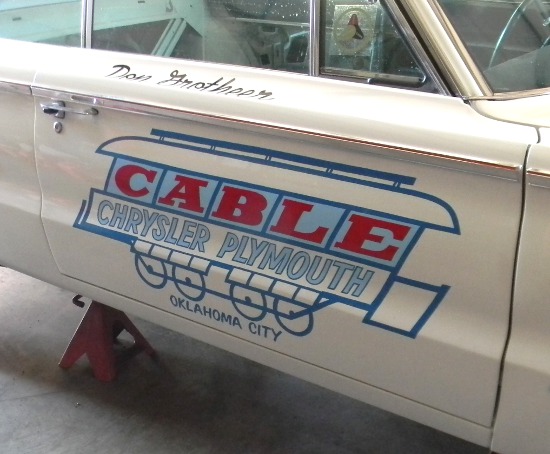 Some info about the rest of the pictures: The blue car is a Super Bird in progress, there's a Challenger, and a beautiful Dodge truck. The engine block is a 440 cubic inch block, typical of police car motors back then. There's a distibutor rebuilding machine, and a hemi in a crate. The complete 440 engine is in the Super Bird.