We went to visit our in laws for Thanksgiving. They were giving us 2 Jersey-Angus cross cows; so we needed to take a trailer. We had one, but it was rough, in no condition to go. I have 11 children, the older ones are quite good at fixing things. We were all busy right up to the last day. So we did a 24 hour makeover on the rusted horse trailer. The pictures tell only part of the story. The first one gives you an idea of its condition. The rust places went all around it. Yes, those are gaping holes through the metal.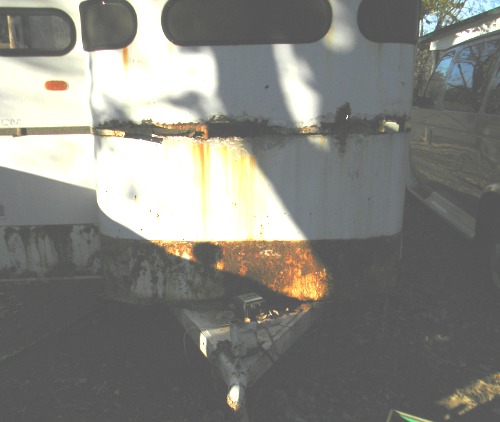 We cut this sheet metal out, as well as the box tube steel supports behind it. They were rusted too. I used one of the old corner pieces as a guide for bending the new ones. I have a pretty nice pipe bender, which works well for the box tube steel.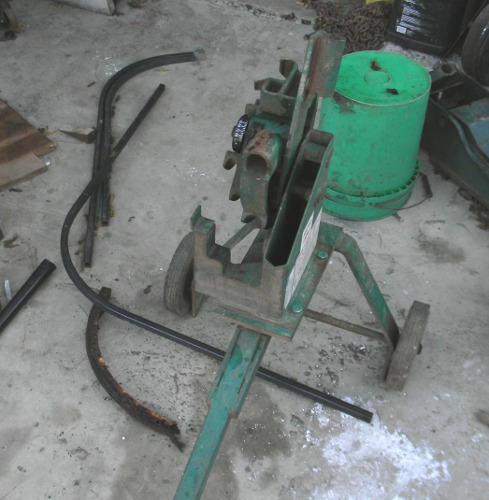 My oldest son Earl bought a new piece of sheet steel, and rounded the corners with a section of utility pole. Then, him and his brother Sean welded it in place. I was using a wire wheel on rust spots; and wiping the trailer down with solvent to prep for white primer. I used white primer because the cold night air would wreck fresh paint. If it caused a problem in the primer, I would just sand and reprime later.  Two younger brothers, Greggory and Luke, helped with the wire wheel work, and removed the old tires from the wheels. Then they prepped and painted the wheels silver. Sometime late at night Earl helped then put the new tires we bought on the wheels. The next morning, I primed the new sheet metal, and Earl made a plywood floor for the front area. I also mixed up a dark green paint similar to the color of the towing van, and painted in the strip area that used to be black. We still have more work to complete it, but it worked really well for the trip. I didn't want an old junky looking trailer attracting the attention of Law Enforcement.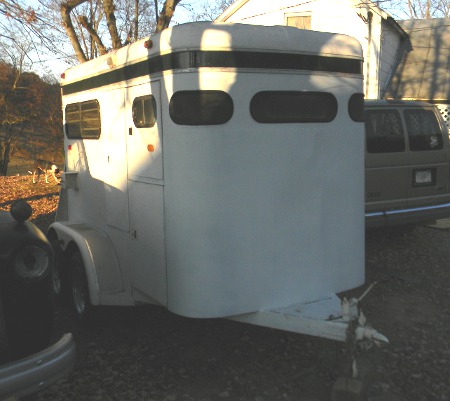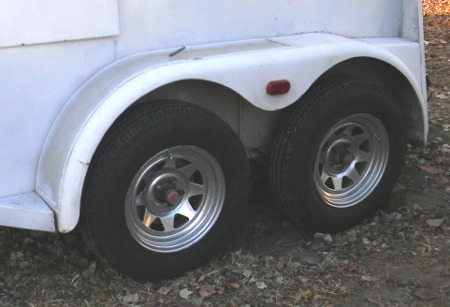 This trailer was damaged by neglect; the previous owner left a roof vent open, and wet hay inside the front compartment for years. Nonetheless, steel is always reverting to its oxidized state, if it has no protective coating. Job security aside, the process can look like a curse. Maintenance, here, maintenance there, maintenance everywhere.
I had pretty much given up on finding a church to attend. Then I heard a radio program by a local pastor. It was relevant to a subject I had been thinking about, so I went to a Sunday service to see what it was like. I've attended probably 6 services, and man, do I like it. Of course, they might turn out to have some strange doctrine, you know how it goes. So far though, the more i learn about the church, the more I like it.
So it is, at this point in time, I highly recommend Christ Church Knoxville, on Alcoa Highway. Normally, pastor Nathan gives the sermon, but a few weeks ago, a guy named Chris gave the sermon. It was good. He started talking about the book of Ecclesiastes, which if you know the Bible, isn't all sunny and cheery. He was saying that one of the messages of the book is that there is no gain in this life. We keep repeating the same activities, with no gain. My mind started relating this to things constantly deteriorating, rusting, and wearing out. Entropy, I guess.
Then Chris pointed out that once God became flesh, and dwelt among us, the parameters changed. Because of Christ's sacrifice on the cross mankind could have eternal life. That changed everything. In fact, the apostle Paul went on to say that for him (Paul) to live would benefit the churches, but to die was gain for himself. He would gain eternity, where there is no sorrow, no crime, no greed, and…no rust.
Here's a link to the Church website:  Christ Church Knoxville
Here's picture from a roadside stop on the trip.